A busy week is shaping up and suddenly, there are a lot of crafty deadlines looming. (If I have to have deadlines, crafty ones are definitely what I prefer!) Thought I'd start a new series on the blog called TCB Tuesdays, where I just talk about some random stuff (
take care of biz
). Show a random project or 2. Welcome to the first edition, which may or may not be weekly :)
Have you seen this yet?
Paper Crafts Stamp It! Techniques
I just got my copy in the mail, but right before that, I bought one at the store. (Would you like to have it? Just leave a comment today and I'll draw a winner on Friday.) If you are even remotely interested in stamping, this publication is chock-full of awesome techniques, along with great instruction. I was thrilled to see my lowly little tag on page 65, with step outs, taking up an entire right hand page:
By far, one of my favorite pubs so far. I've got to give a shout out to
Julie Fei-Fan Balzer
here, as she is the one who taught me how to stamp with Distress Ink and water (the technique I used on that tag). Thank you Julie - can't wait to take more of your classes!
Speaking of classes, I was thrilled last week to nab a spot in this class: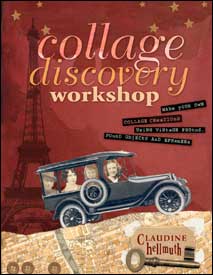 Claudine Hellmuth's
Collage Discovery Workshop at the Ink Pad in NYC
. I've always wanted to take a class on collage and now I get to take this one with
Claudine
. Yipee! I'm totally psyched. Couldn't be more thrilled. I hope I can keep up and not make ugly collages. (performance anxiety will certainly kick in!)
My Twisted Sister
Steph
is starting a new challenge blog. It's called "
For Your Inspiration Challenge Blog
." The challenges will be photo inspired - but Steph wants participants to create in whatever medium the feel compelled to use. What a cool twist - she even mentions baking as one of the mediums - I'm all over that! I'm dying to see what everyone comes up with, so tell your friends! Sounds like a fresh new approach to the challenge. Steph is also holding her first design team call for the FYI blog - you can check out the details
here
.
I'm a little bummed this week that I will not be attending CHA, which was high on my list of 'must do's' at the end of last year. Alas, the logistical ducks did not line up as I had hoped. I'm anxiously awaiting the blog dispatches from the show and all the fantastic photos that will surely flood the crafty interwebs over the next few days. Let me vow here, wild horses will not keep me away from CHA Chicago in July! (I love Chicago!!) Anyone else have plans to attend CHA this summer?
Ok, so that's my first TCB Tuesday. Leave me a comment for a chance to win that magazine!!