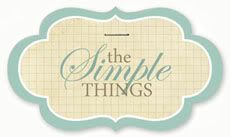 My simple thing for this week:
Old wooden frames. I ordered these vintage looking frames from Pottery Barn over the summer. They were backordered for so long I totally forgot about them, until Wednesday, that is...when they showed up on my doorstep. I was ready to send them back because I had read a few bad reviews about them arriving broken. Well, that won't be happening. As soon as I pulled back the first piece of tissue paper I was in love. They are exactly what I wanted for the wall in my dining room. Simple, white and perfect. :)
Don't forget to enter my blogiversary giveaway
here
...you have until midnight tonight to win!